SRG'S EXCLUSIVE SERVICE
Team-based service, exclusive photography, modern and forward leaning marketing, industry leaders and more.
WHY SELL WITH SPIVEY REALTY GROUP?
The whole world will see your property for sale by utilizing SRG's experience and know-how (including market pricing) and industry-leading photography and marketing. With everyone "in the know," we will have the best action, showings, and ultimately the most profitable offer(s) in the least amount of time. That is the SRG way.
LET'S BREAK DOWN THE SELLING PROCESS INTO 3 SECTIONS:
001.
PRE-MARKET
Featuring our listing approach, to-do list for prepping your home, and the importance or photography and marketing.
002.
ON-THE-MARKET
Which talks about showings, feedback, and offers.
003.
POST-MARKET
Once your home is under contract, things you should know about are the home inspection, appraisal and considerations at closing.
PART ONE.
PRE- MARKET
When choosing the price of your home consider our tried and true listing approach that sells homes 2X faster than other agencies.
We conduct an in-depth analysis to establish current market value of your property. The analysis will include
properties like yours that are available now or that have sold recently, including locations square footage,
bed/bath count + condition. From that analysis, we will have a high-low range of "market value." Where we go from here depends on your goals. The market IS the market. Therefore, no matter what we price the home at, it
will "find" market value. How long it takes to find it – that is what we decide in our pricing strategy.
The lower in the range we launch on the market, the smoother the sale will go -smoother meaning faster, less concessions, and less inspection requests. You also have the best chance to bump up some in price (multiple interested parties) to reach low-mid on the price range.

Pricing in the middle of the range is solid and the safest approach. Less likely to get bid up, but not too high that we have little to no showings. We never recommend pricing toward the high end and here's why: the only way to go is down. You'll have less showings, less activity and ultimately the house risks stagnating on the market and the feared "what's wrong with this house?" question arises. If you want to strike the best balance when pricing – and talk with your agent about this – a list price in the low to mid of the market analysis range is your best bet.
Commission Rates 2023
*Commission is negotiable and case-dependent. Please ask your agent any questions or for more details!
Residential 5-7%
35-40 Interior/Exterior/Drone Photos
Online presence on all RE Sites
Weekly Paid Marketing
Signage, Flyers & Postcards
ADD ONS – Home Staging 1%
ADD ONS- 3D room walkthrough $275+
ADD ONS- Panoramic Layout $275+
Land 7-10%
10-15 Drone Photos
Online presence on all RE Sites
Weekly Paid Marketing
Signage, Flyers & Postcards
Commercial 5-8%
35-40 Interior/Drone Photos
Online presence on all RE Sites
Weekly Paid Marketing
Signage, Flyers & Postcards
the home prep
The scope of prep work is determined by your goal price point. Whether your goal is to sell as is, or for the highest you can, there is essential prep work involved leading up to launch.
To sell for the most money possible, we want to make sure some items are addressed. These are minimal in terms of cost but go a LONG WAY in selling a move-in-ready home in the simplest, most profitable way.
Photography + Marketing
Photos are our first impression on the market, so we focus on clean, bright imagery to catch buyers' attention. 35-40 interior, exterior and drone photos will be uploaded to showcase your home, and these are provided at no additional cost to you! Sharp eye-catching imagery leads to increased online activity, and results in more showings & offers. Your agent will schedule Matt once the prep-list is complete, normal turnaround time is 2 days, and then we're ready to launch on market!
We average hundreds of views per listing on our website (yep, this one!), and also advertise your home on the MLS, Zillow, Trulia, Redfin,
Homesnap, and all associated agent sites (John L Scott, Windermere, Century 21, Keller Williams, etc.) With the largest social media following on the Harbor
your listing will reach at least 10,000 potential buyers targeted in our area with paid advertising. SRG agents also retain a wide sphere of potential
clients, local lenders, investors, and agents to help spread the word on your home. We also offer modern signage, open houses & flyers!
LET'S WORK TOGETHER
IT'S ON THE MARKET!
OUR AVERAGE DAYS ON MARKET IN EARLY 2023 IS 10 (THE AVERAGE IS 19)
You'll be set up showing requests directly to your phone to accept or
move to a better time if necessary. You will also receive feedback from
showings the minute we do and be ready to follow up with next steps.
The first two weeks on the market can be pretty intense, but we promise to guide you though it as easily as possible. Our Transaction Coordinator will reach out with any necessary documents with easy online document signing. Each week your agent will discuss the feedback from showings as well as market movement as it relates to your home to determine next steps for getting your home under contract.
Market feedback: The most important advice to keep in mind is that we cannot stagnate on the market. It does not bode well for your home's re-sale value. The best way to avoid that is to be very proactive with showing feedback (or absence of
showings AS feedback) and adjust the property's listing price within the first
2-4 weeks, and then every 2-3 weeks after that. We recommend, generally
speaking, ~5-7% price adjustments. That has been proven to be enough of
an adjustment to catch buyers' attention and reach a new market/encourage more showings. Offers: Together we evaluate the offers based on terms, sales price, and
net proceeds and determine what's best given your objectives and situation. We ensure you have made all required disclosures and are protected, meeting all state and federal regulations.
POST-MARKET STEPS
Once we accept an offer, there's generally 4-6 weeks until closing (aka when you get your proceeds!(. The only things standing between you and your next adventure are the buyer inspection period, appraisal, final lender approval, final walk though, and signing.
001.
HOME INSPECTION
Home inspection -After receiving the
findings, the buyers may move forward as is, request a price reduction, or make a repair request. The negotiation may go back and forth a couple times until we reach an agreement. Sometimes the findings need further evaluation, so the buyers may have relevant contractors come and give their determination on work needed. Once we come to an agreement, we order the appraisal.
002.
APPRAISAL
The majority come in "at value" with no work conditions. If there are a few conditions, like replacing a piece of rotten wood, touching up peeling paint, etc., we need to address them before closing. If the appraisal comes in below value (aka below agreed-upon purchase price), there are a few options:
We come down to appraised value
The buyer bridges the gap with cash down
We meet somewhere in the middle
003.
CLOSING + KEYS
Final walkthrough– The buyers have the right to a final walk through of the property to double check all items called out on the home inspection and appraisal. This is typically within 3-4 days of closing and lasts 30-45 minutes.
Signing and keys -A few days prior to our close date, the escrow company will call to coordinate your signing appointment. During signing, the escrow officer will solidify for us the recording time for the sale. As soon as it records, the sale is legal and final. Before leaving by 9 pm on the day of recording make sure to clean up and turn off your utilities so the new owners can have it transferred into their names.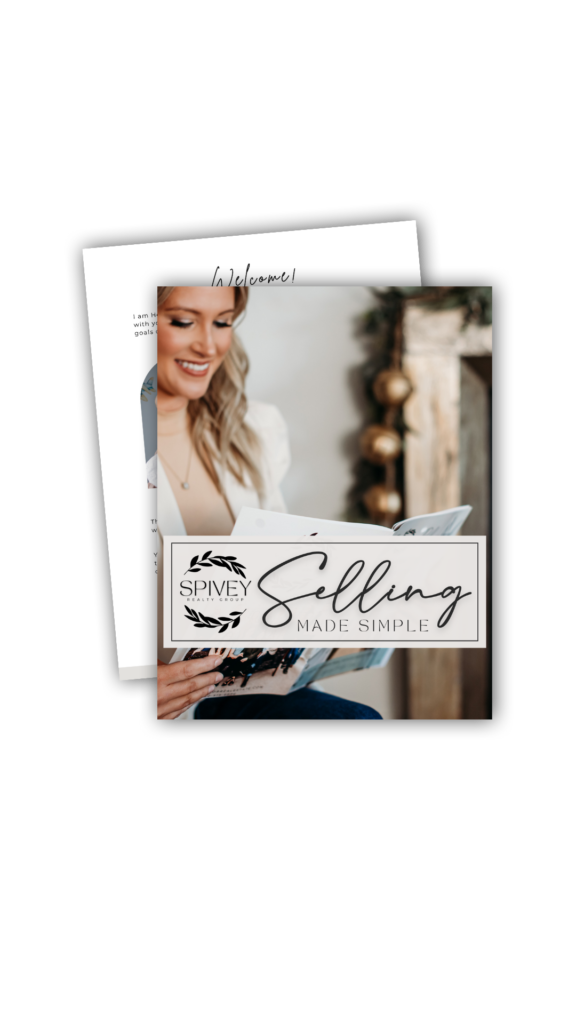 Want to save this info for later?