Retire Early with Rentals
Who wants to retire early? Ever thought about how to do that? Buy rental properties. We have a goal to retire early – not to ACTUALLY retire, but to BE ABLE to retire. To no longer HAVE TO work to pay for our lifestyle. We have a plan on how to get there, too.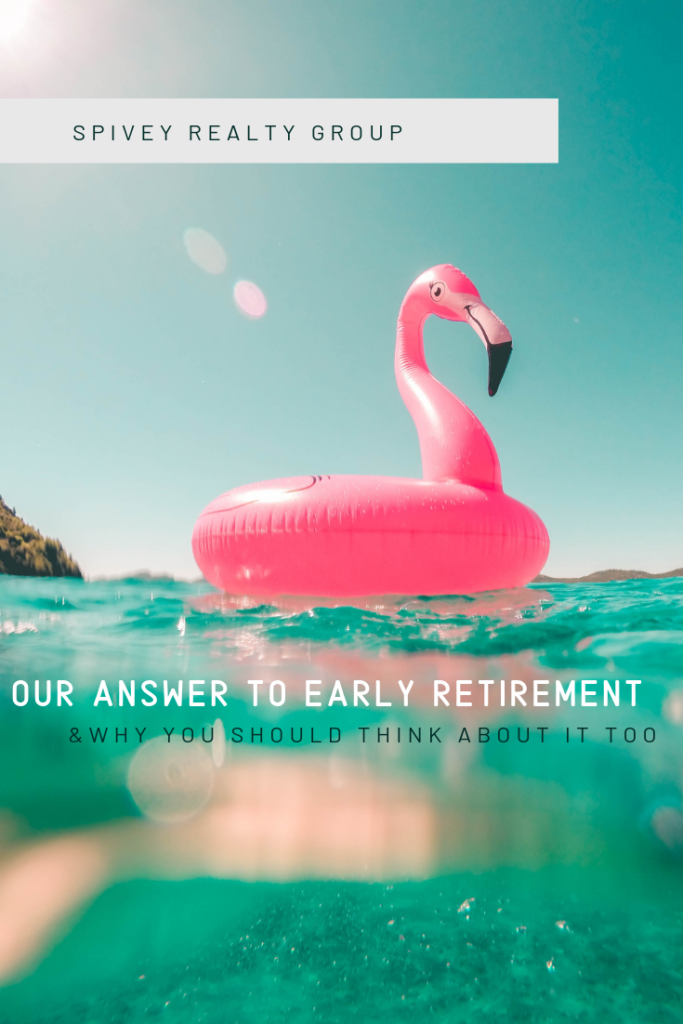 In order to retire early via rental properties (or via anything), you need to know your retirement number(s):
How much income do you need to fund your current lifestyle? (stage 1 financial independence)
How much income do you need to fund your DREAM lifestyle? (stage 2)
How many rental properties, looking at cash flow per unit, do you need?
Let's run this through.
Let's say your current lifestyle costs $5,000 a month in NET INCOME (after taxes). Keep in mind, rental income also has the perk of not being taxed as heavily as your active income. It's not tax free, but it's a ton closer than your day job's income. For the sake of calculations, we will look at rental income as NOT taxed, so we can use the cash flow directly toward your NET monthly income needed. It'll be off by a little, but not much!
So, you need $5000 a month to be "free." We use a desired cash flow number of $300/unit/month. The rule of thumb is $100/unit/month, the more the merrier. We self-manage our rentals, so we would expect a bit more – and we only buy AWESOME DEALS. You should do that, too.
Using our cash flow number ($300/unit/month), you would need about 17 units to replace your $5,000/month income. If 17 units seems like a lot, don't be discouraged. If you don't want to retire BUT you want the $5000/month income from rentals when you're closer to the normal "retirement age," you would also factor in the debt payoff over time. That is, the tenants will be paying off the loans on your properties for you over the next 20-30 years. When they're paid off, you'd only need about 10 units to pay out $5,000/month income. That's not too bad!
Now consider your DREAM lifestyle. Think of anything you'd want to be able to buy, see, do, have. Add it into a budget (we use excel). Run that calculation to find your DREAM budget. This is the all-your-wants are met budget. Things like vacations, cars, house, investments (yes, you should still budget for to do that – you want to build generational wealth, don't you?). Entertaining and "spending money."
Let's say it's $10,000 a month. I think that's a GREAT income and EVEN BETTER without having to work. With twice the goal of your STAGE 1 FINANCIAL INDEPENDENCE NUMBER ($5,000), you'd need twice the units, so 34 OR 20 paid off.
While $5,000 and $10,000 were easy numbers to use to demonstrate the power of real estate investing for cash flow – and how to retire early – they also happen to be our real numbers.
The only other variable to consider is the time in which you want to accomplish your goal. We think big, so we put quick deadlines on our goals. Like, within the next three years big.  
One cool side effect as we get closer to our goals – which we didn't realize when we were starting out – is that as you achieve your goals – that is, as you increase your household income (by every rental unit) – you become freer and freer. You can now consider different opportunities – perhaps with higher risk, greater pay out – than you could before.
We started from nothing (which is why we know you could do it too) and we work very hard and smart every day. We also make mistakes, and that's normal. Don't worry about making mistakes.
It doesn't exactly take money to make money because we started with no money and now, we own 10 units and a flourishing real estate sales business. But, once you make more money from your investments – maintaining your mindset, tolerance for risk, and smart decision making – you can make lots more money using your money. It can grow exponentially, from a creek to a river to a waterfall.
For instance, at the end of 2018 we owned THREE units. A duplex and a commercial building. As of this writing (mid 2019), we own ten units and will likely own more before 2019 ends. Set your goals and crush them.
We hope to be as transparent as possible about our goals and investments. Hopefully you will be inspired to stretch for your goals. Don't worry about not having the funds or family ties. If we can do it, so can you! We hope everyone takes some inspiration from the things we're doing, never hesitates to ask questions/seek advice – we're an open book! Let's all retire early on a beach somewhere ? – and then come back to the Harbor to keep making a difference for many years to come. Cheers! -The Spiveys
4